QRI provides consistent, effective, and comprehensive trainings to give employees the up-to-date skills required by your organization related to quality control and quality assurance.
Your training program's quality is crucial. It makes it possible for you to stay on top with latest industry standards & rapidly evolving technological requirements. You may transform your people and business with the help of QRI Trainings, which gives you the skills and information you need.
QRI, being the pioneer organization in the field of accreditation in Pakistan, will employee its competence and experience to develop and offer tailor made training program satisfying the need and requirements of valued customers. The training program shall cover the general as well technical aspects and shall include but not limited; method verification and validation, measurement uncertainty in different fields (testing and calibration), internal and external quality control, Calibration and Metrological Traceability.
We at QRI, also have Hands-on training programs for microbial, physical and chemical analysis using modern equipment such as HPLC, UHPLC, GC coupled with different detectors, AAS (graphite furnace, flame, hydride generation), Spectrophotometers, Dissolution and disintegration testing of tablets, microbiological testing etc.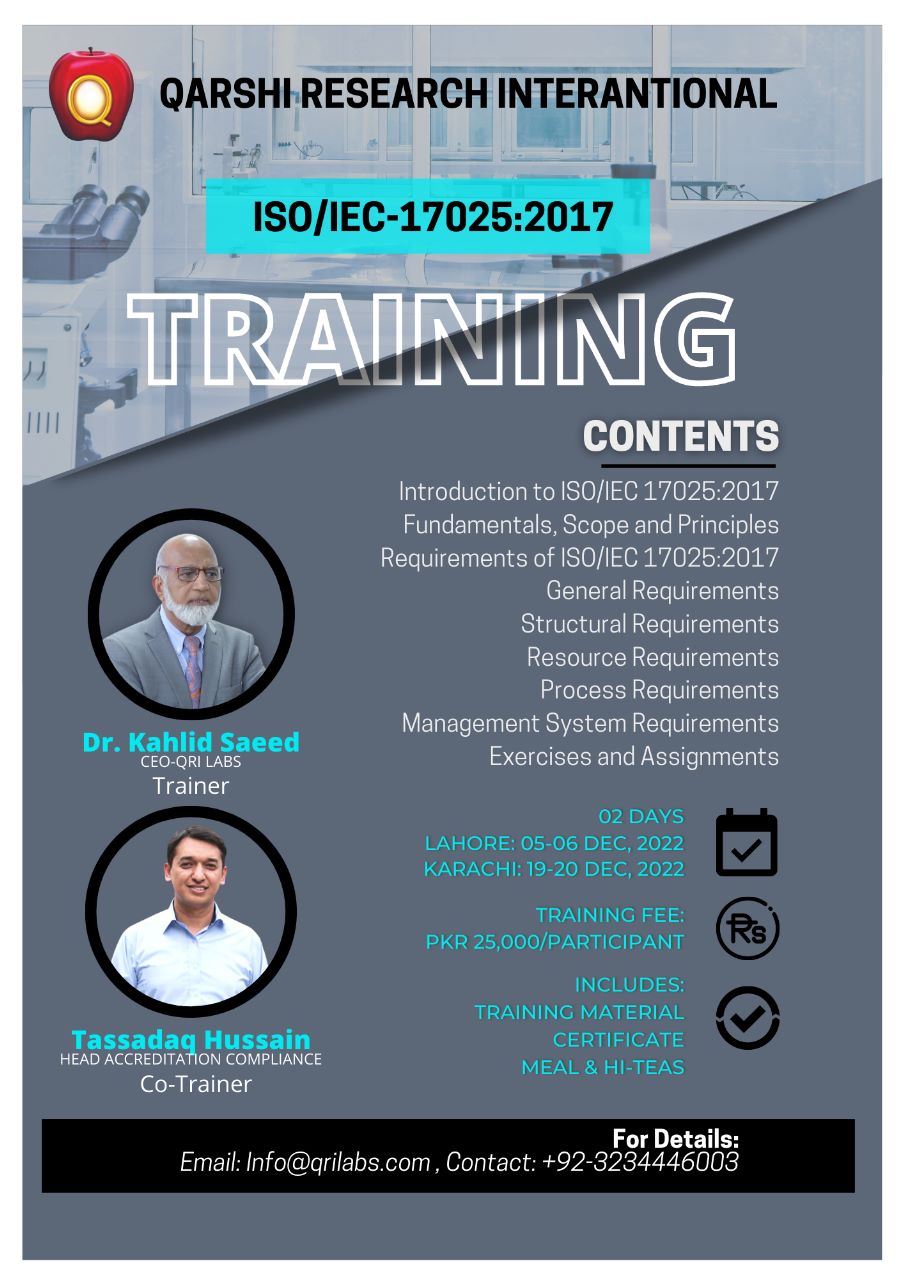 ---
ISO/IEC-17025:2017 (Lahore 05-06 December, 2022)
Qarshi Research International (Pvt) Ltd. recently acheived another significant milestone by successfully conducting a two-days training program, lead by Dr. Khalid Saeed (Chief QRI & CQAU) a globally renowned expert and trainer in the field of Accreditation, Certification and Auditing. The training was focused on "Understaing and Implemenating the Requirements of ISO/IEC 17025:2017". It was an extremely productive session that created and developed the requirements of ISO-17025 amongst the participants for the competence, impartiality and consistent operations of laboratories.
Qarshi Research International (Pvt) Ltd. is immensely grateful to all the honorable participants who made it possible to held such a interactive session, including Unilever, Seasons Foods, World Food Programme, Fauji Foods, University of Central Punjab, Remington Pharma, Asian Foods, AlHilal, Quick Foods Bunnys, Murree Sparklets, Rehmat Flour Mills, Aims Calibration and few more for their participation.